Is your outdated website costing you business?
A bad website can hold your business back. If a site is outdated and slow, it can appear out of touch with your audience and drive away potential customers. 
Many factors can let your site down, from a slow loading speed and bad SEO to poorly written content and a non-responsive design that isn't mobile-friendly. 
Don't let your company down. Work with us to create a website that will represent your small business in the right light. Our team will create a website for your business that consistently wins over new customers and improves your presence online.
Get in touch today for a free quote and start your journey toward securing a website that works exactly how it should.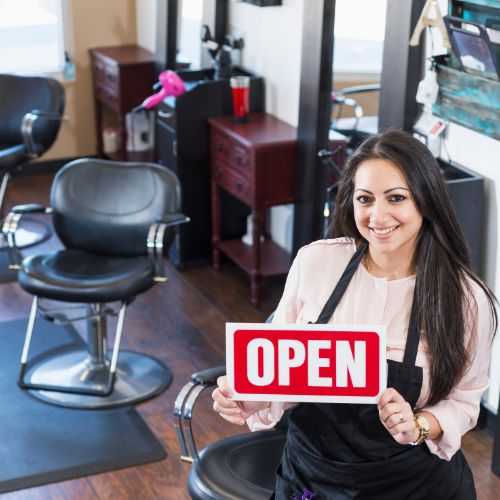 How our website design process works
Whether you need a major website overhaul or an entirely new site built from scratch, our team of talented website designers is here to help.
We'll provide you with a new and improved website that will boost your SEO rankings, increase brand awareness, and help you get the edge over your competitors.
Here's how it works:
Discovery
We'll work with you to identify the results you want to see for your website and the best solution to get you there. We'll research your industry to determine how your website can best serve your customers' needs.
Nothing gets started without your approval.
Content
Quality content helps attract customers to your website and encourages them to take action. We'll create or transform your website's content with our copywriting and SEO expertise.
We'll start with a 30 minute kickoff meeting to better understand your business before we start writing the copy (including the reason why clients choose you over your competitors, any unique qualities we should highlight, to capture the tone for your copy, and any questions we have).
Design
Our goal is to design a website that is both appealing to your audience and suits your company's needs. As soon as you've approved the copy and provided your logo/images/photos*, we'll start designing your website. You'll be able to review it live and receive two design reviews. Nothing gets finalized without going through you first.
*Original images are best, stock images will do, but no images grabbed from Google or without usage rights. If it's been awhile since you've had photos taken, this would be a great opportunity for new photos. Schedule a local, professional photographerto to come to your business.
Development
Our web developers will expertly develop your website in WordPress with the approved copy and the logo/images/photos you provided. This is where the bulk of the work is happening and takes 4-6 weeks.
Testing
Before your website goes live, we'll test it for potential bugs and check your site's usability, security, functionality, and performance.
Launching
When everything has been expertly tested, and you're happy with your new site, we'll launch your new website.
Security/Maintenance
Your website's design and development is just the beginning of our long-lasting relationship. We'll continue to upkeep your site's security, maintenance, and marketing.
Frequently Asked Questions
How do I get a website designed for my business?
You can get a website designed for your small business by working with a digital agency to design and develop the perfect website for your company. Our team of talented designers and developers would be happy to put together a website that suits the unique needs of your business. Get in touch with us today to discuss your project's needs and requirements.
Why should I get a website designed professionally?
Professional website designers and developers have years of experience working with businesses to ensure they receive a website designed with their brand in mind. By getting a professionally designed website, you'll be able to ensure that you're receiving a site that will help you attract more business to your company.
Can I design my own website?
There are a lot of website design tools and templates out there that will help you create your own website, but if you're unfamiliar with how website design and development work, you might end up making a site that could potentially damage your brand. Plus, website design takes a lot of time and effort, and you have a business to run! Avoid the headache of designing your own website and work with a team that knows how to create a website for you.
What's included in a website design?
When you get a website professionally designed by our team, we'll ensure everything is working the way it should. Our team will design a website that matches your branding and meets your expectations. When you work with us, we'll design and develop your website, implement security, keep it maintained for you and test it to ensure it's running the way it should.
Do you write the content for a website too?
Yes! We have a team of talented content writers who will write your website's copy. They'll conduct extensive keyword and SEO research to ensure all the right keywords and phrases are hit. This will give your site a better chance of appearing at the top of the search results.